Ta Paidia Vrexei
The National Observatory of Athens enables kindergarten and primary school students to participate in an innovative meteorology educational program that combines imagery, video, animation, experiments and constructions in order to disseminate meteorological knowledge to the general public, and specifically to students.
Specifically, in a fully interactive lesson, children will learn about the sun - the star of life, the water cycle, the creation of clouds, the rainbow, the seasons, thunderstorms and thunder, snow, hail and snow. wind. They will get to know the meteorological instruments closely, and by performing interactive experiments they will come into direct contact with the science of meteorology so important to human life. Furthermore, all children will experience the radiation and feel like little meteorologists, sending our meteorological balloon to the confines of the atmosphere. Completing the program, each group of children will have anemometer, made of simple materials and each child will have a poster with the types of clouds.
More specifically, the experiments carried out under the program are four, while there will be a demonstration for self-protection from lightning and a simulation of a meteorological balloon, which will be released to the atmosphere. The experiments are performed with the help of the children, who are selected on the basis of the answers they give to selected questions during the presentation or randomly. The number of children involved in the experiments during the presentation is about 45-50% of the children but at the end of the presentation, if time permits, the children can do as many experiments as they wish. Also, those children who do not actively participate in one of the experiments are given priority in the release of the meteorological balloon at the end of the program.
Experiments include:
1. Create a rainbow with the help of a refracting light
2. Create a tornado inside a bottle
3. Create clouds inside a bottle
4. Flying objects using a handheld electric generator
The experiments, materials and experimental equipment used are completely harmless to the physical integrity of the children and all experimental activities are always carried out under the direction and guidance of specialized educational staff.
Cost and Duration of the Program
The above educational program is self-funded. The cost of the ticket is at 5 euro per child including VAT and includes all the materials of experiments. The duration of the program is 90 minutes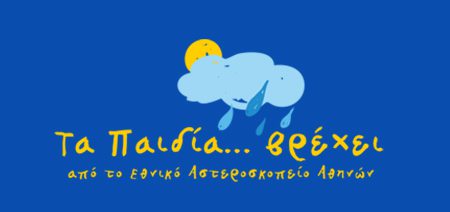 Peri Anemon & Ydaton (About Winds & Water)
The educational program named "Peri Anemon & Ydaton (About Winds & Water)" enables secondary school students to participate actively in an interactive meteorology educational program through simulations, experiments and interactive applications. Particular emphasis is given to the understanding of extreme weather events as well as to the basic precautions during their occurrence.
More